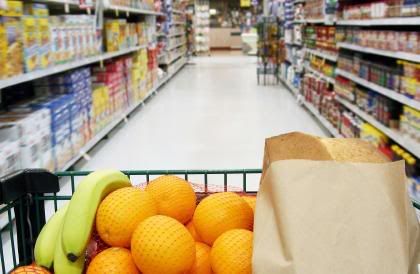 This is the story of my first grocery store trip as a new mommy. Don't worry, I promise it's not as boring as it sounds.
So we were officially out of food and started to consider breaking into the scrumptious bag of cat food that we had in our pantry. Our cat, Eve, was not too pleased with this and told me I needed to get my hiney to the grocery store. Did I just say "hiney"? Haha!
So then I took my son Tovi to the grocery store for the first time. When we arrived at the grocery store, Trader Joe's to be exact, the little man was sound asleep. Perfect!
So I proceeded to carry the super-heavy car seat with my adorable brick-of-a-baby over to the shopping carts. I recalled seeing other moms place their baby's in their car-seat on top of the shopping cart. It looked simple enough. So of course I had to make it look the complete opposite of "simple". I did a major "heave" and "ho" and finally got the car seat on top of the shopping cart. Amazingly, even with all of the ruckus the little man was still passed out. Phew!
I then push the cart into the grocery store. Right when we get in the store I soon realize something that is pretty important when maneuvering a shopping cart is missing…the ability to see in front of me! Being a short mommy and then piling on a car seat on top of a shopping cart that is already pretty ginormous compared to me is not a good combination.
I can only imagine what everyone was thinking when they saw me in the grocery store. I can picture it now, a shopping cart coming right at me all by itself, it surely must be being pushed by Casper himself! Haha! So for me to be able to see where I was going I kept having to lean over to the left and to the right to make sure that I wasn't going to run anyone over or run into the meticulous banana display.
But that's not all that made this trip beyond fabulous. Within 10 minutes of entering the store, little man woke up and decided it was time to cry bloody murder. He ate right before we left to go to the store, so he surely wasn't hungry. I had his pacie handy and he decided that the pacie that he once loved was no longer his forte. Perfect timing. (insert sarcasm)
Due to the sudden turn of events with the little man crying up a storm I tried to get the shopping over with as soon as possible. Just throwing anything edible into the grocery cart. I was in a hurry, until a lady comes up to me and is completely oblivious that I am in a hurry and want to get my crying baby out of the grocery store as soon as humanly possible. She then says, "Awww…poor baby! What is wrong with him?" Ugh! I don't know if it is just me, but as a new mom it really got on my nerves when people would come up to me and be like "there is something wrong with your baby, why is he crying?" Well, duh, newsflash…he is a baby, they cry! I didn't say that to her of course, because I'm sure she meant well. It could have also been my raging hormones at the time that made it so annoying. I had a new person coming up to me every 5 minutes asking me what was "wrong with my baby?" Geez! That's enough to make anyone go a little crazy I think.
Thankfully I was able to successfully purchase some groceries and my cat was able to rest easy that her food wouldn't be touched. Oh how I miss the days of going to the grocery store and taking my sweet time. However, without my little man I wouldn't be a part of this crazy journey of being a mommy and this post would have never been written. Thank God for my sweet baby boy…life will never be boring again! :)
Have any of you ever had any funny or wild shopping trips?
No related posts.